THE LOYAL TEXTILE MILLS PRIMARY SCHOOL
Loyal, in its pursuit to empower the children of its mill workers and socially backward people living in and around Kovilpatti, started a primary school, the Loyal Textile Mills Primary School in the year 1948. Ever since, the school has grown into a Middle School that imparts education from the first to the seventh standard. Today, the school boasts of state-of-the-art facilities, a well-qualified teaching staff, buildings, dedicated play area and related infrastructure. In addition to having well-equipped class rooms, the school also provides a Value Education Programme and a Tutoring Programme for economically poor students.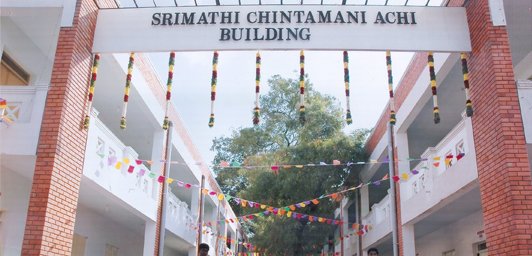 THIGARAJAR MODEL HIGHER SECONDARY SCHOOL, MADURAI
Situated in the eastern part of Madurai, Thigarajar Model Higher Secondary School was founded in 1957 as a requirement for the B.Ed. College (Thiagarajar College of Preceptors). The school is run under the able guidance of Correspondent, Mrs. Valli M Ramaswami as its Chairperson, Loyal Textile Mills Ltd, and Secretary, Thiru M.E.Elango BBA, BL.
Affiliated to the Tamil Nadu State Board, the higher secondary school has classes from standard VI to standard XII. It provides education in both English- and Tamil-medium. The mainstream subjects taught in the school are Maths, Physics, Chemistry, Biology, Computer Science, Commerce, Economics and Accountancy. The school also provide a choice of vocational subjects including Maths and General Machinist.
Admissions to the school are based purely on merit. Entrance test is conducted for standards VI and XI. Admissions to standard XI are based on the marks obtained in the matriculation or equivalent exam.
The school provides fee concession for poor and deserving students, medical assistance for staff and students, a Value Education Programme and a Tutoring Programme for economically poor students conducted by the B.Ed. Students of the Thiagarajar College of Preceptors. Other facilities provided by the school include N.C.C, Yoga classes, breathing exercise classes, industrial training for vocational students, parental sessions, literary and science associations, guest
lectures for students by eminent personalities and special coaching in sporting activities. The school also encourages different forms of arts, literature and drama. The students are also given a chance to enact in a drama written by our founder, Karumuttu Thiagaraja Chettiar. The school has also been working on an effective Parent-Teachers Association (PTA).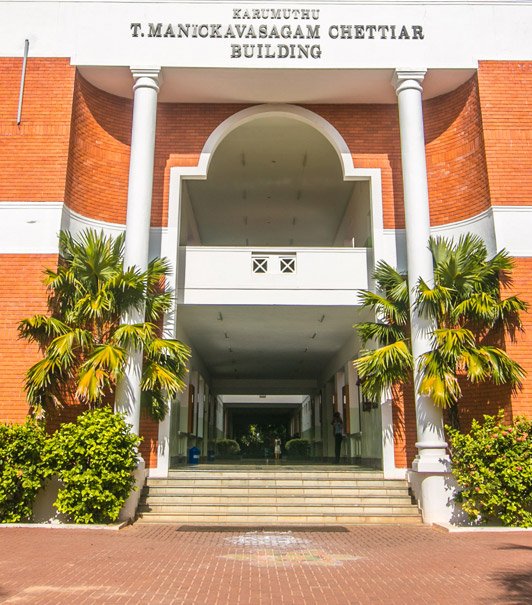 Some of the achievements of the school include the following:
Mostly above 98% pass in public exams.
 Mrs. Santha (Tamil Teacher) won the Best Teacher Award given by the Government of Tamil Nadu
in 2006-07.
From 2011, the school became an ISO certified and practising institution.
R.Vignesh, standard XI-A and Mr. V.Anandan (T.T) participated in the "Thirukkural in Parliament" program held at Parliament House in New Delhi on the 17th of December 2015.
Ramsundar of standard XII secured 01st rank in the district (for Aided Schools) during 2014-15 and received the prize from the District Collector. In the same year, the school achieved 100% pass
result in the Xth and XIIth public exams.
Our school student, R. Vignesh and Mr. V..Karthik (T.T) participated in the Vijay TV education programe conducted in 2016.
T. G. Nagagovindan and T. G. Eknath secured state-level first prizes in the Camlin Art competition in
2015.
T. Aprudheen of standard VII-F won the state first prize in Taekwondo in 2015.
Our student, Muthutkrishnan finished second in the state-level fencing competition.
M. R. Vetrivel of XI-A secured second place in the national-level English Essay Competition
conducted by The Hindu newspaper and Camlin in 2015.
T. G. Nagagovindan secured first in the South India-level Art Competition conducted by Camlin in2016.
M.Gokulapriyan secured second prize in the state-level Oratorical Competition in 2016.
THIAGARAJAR COLLEGE OF PRECEPTORS, MADURAI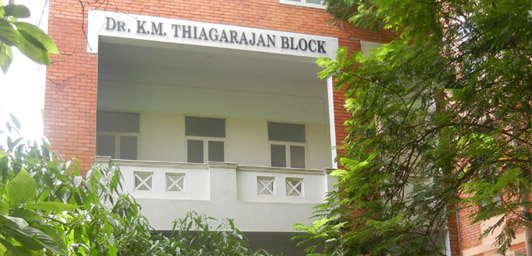 Located in the eastern part of Madurai, Thiagarajar college of Preceptors was founded in 1956 by Mr.Karumuthu Thiagarajar Chettiar. The College is run under the supervision of appointed Secretary Mr. M.E. Ilango, B.B.A., B.L., and Correspondent – Mr. Manikam Ramaswamy, B.Tech (Chairman
and Managing Director Loyal Textile Mills Ltd ).
The courses offered by the college includes B.Ed., M.Ed and M.Phil. Presently only B.Ed. department is functional with an approved strength of 400 students. It is a co-educational institute and has been affiliated to Tamilnadu Teachers Education University, Chennai. Thiagarajar college of Preceptors has also been recognized by the National Council For Teacher Education(NCTE) and it
is the first Educational Institution in India to practice ISO 9001:2015 The college provides training to the students with the help of the attached Thiagarajar Model Hr. Sec. School. This allow students and staff to conduct various educational researches from time to time. Admission in the college is purely based on merit basis. Entrance test is conducted and the candidates are selected on the basis of academic achievement and extra-curricular activities. A candidate should have minimum UG qualification for appearing in the test. However, most of the aspirants have PG qualification and a few are M.Phil, B.E and M.E qualified.
While, the extensive activities of the students cover organizing science programme in rural school, daily tutoring programme for weak students of model school and community service programme, our experienced teaching staff provide their services by conducting training programme for teachers of reputed schools like TVS Lakshmi Mat Hr.Sec.School, inspection of other schools for evaluation of academic and non-academic aspects and expert suggestion for bringing considerable improvement – acting as resource persons for the required schools.
Our Students have successfully executed a project under the able guidance of the principal and staff members to provide ways of increasing retention of workers in Loyal Textile Mills, Koilpatti and Valli, Textile Mills, Sattur. Further, the Government of Tamil Nadu through Sarva Siksha Abhiyaan has
sanctioned a project to improve the teaching skills of teachers at elementary level.
Our faculty members include principal and Professors of English, Tamil, Maths, Physical Science, Biological Science, History, Computer Science, Commerce and Physical Education. We undertake professional development of the teachers through funded projects and participation in seminars,
workshop etc.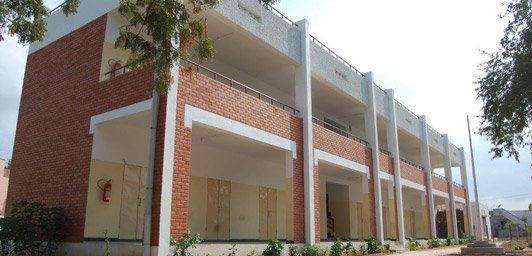 EDUCATION AS AN IMPORTANT EMPOWERING TOOL
The founders of the Loyal group believed in empowering the society through education. Loyal group supports several post-graduate educational institutions and schools to provide high quality subsidised education to over 3,000 youth.
Loyal encourages continuous education of its employees by providing the necessary support and facilities in the mill hostels. Over 300 employees are currently pursuing undergraduate degree program even as they work in the mills.
THIAGARAJAR SCHOOL OF MANAGEMENT
While 3500+ schools exist in the country to satisfy the demand for MBA, only a handful of these B- Schools impart quality education and churn out leaders. Thiagarajar School of management (TSM), is transforming students into role ready professionals, who can take up challenges of various industries with expertise and ease. It was established by the great philanthropist and industrialist, Shri. Karumuthu Thiagarajar Chettiar, in the year 1962 and is arguably the oldest B-school in South India. With its intensive, industry-oriented curriculum, benchmarked against the best institutions of the country, with strong focus on overall development, The institution strives to groom ethical, managerial and entrepreneurial leadership through high quality teaching. TSM is a well furnished and self-sustained institution which houses a state-of-the-art infrastructure with over 60,000 sq.ft. of built up area. All classrooms are fully equipped with modern furniture, audio visual aids like LCD projector, and a Computer with Internet facility. The Institute also has air conditioned seminar halls with video conferencing facility, two air-conditioned auditoriums, computer lab and examination hall with a capacity to house more than 250 people and a cafeteria. All lecture halls and tutorial rooms are air conditioned. Computing facilities (24 hours Wi-Fi enabled campus) at TSM use powerful computers for providing support for diverse computing requirements, access to bibliographic databases and archives for rapid retrieval of relevant information and for updating and dissemination of academic and research material. MSDN Academic Alliance Programme, IBM Academic Initiative and other such efforts provide a complete, inexpensive solution to keep academic labs, faculty and students of TSM on the leading edge of technology.
TSM students organize Yukti, the annual management fest, which is one of the leading management fests among all B-schools in South India, and Inferno, an annual inter B-school cricket tournament. Additionally, all 1st year students undergo a 1-week Rural Immersion Programme, wherein they listen to lectures from domain experts, followed by staying in remote villages for 3-4 days to understand the nuances and challenges of rural life. The institution has also tied up with organizations like Nativelead Foundation for entrepreneurship development programmes and is talking to over 100 overseas universities for outreach programmes. More recently, TSM has entered into collaboration with The Indus Entrepreneurs (TIE) to set up an Entrepreneurship Development Centre in the campus. Now in its 55th year, TSM looks forward confidently to scale greater heights in the coming years.
The promoter family has been actively involved in developing several primary and higher educational projects for social good. Shri. Manickavasagam Chettiar, was the Founder Correspondent of TSM, Southern India's first business school. All the schools and colleges are fully supported and funded by Loyal Textiles. The previous Chairman and Managing Director of the company, Shri Manikam Ramaswami, a Gold Medallist from IIT Chennai, was instrumental in growing and developing these schools and colleges into state-of-art institutions. The work is now carried on by Valli Ramaswami and Vishala Ramswami, a passionate educationist and founder of Educate to Empower Trust.