KNITTING
COMPREHENSIVE KNITTING CAPABILITIES
Loyal's knitting plant has the capacity to produce 100 tons of knit fabrics a day in Single Jersey, Interlock, Ribs, 3 thread Fleece and Pique Polo Knits.
The plant is equipped with knitting machines of diameters ranging from 20″ to 36″ and gauges from 20GG to 44GG from Mayer and Cie, Terrot, Pailung, Unitex, Amtex, Pilotelli, Stoll Machines, Lafer Brushing Machine and heatset grey stretch knit fabric machine.
The company has a huge capacity of open-width knitting machines to produce cotton spandex fabrics. All machines have high-legs to produce 100 kg plus rolls with scanners to monitor the quality online; they also have the latest creel that can accommodate up to 4 kg packages and come with individual air jet nozzles to feed yarn to the feeder.
Flat knitting machines are used to produce collars and cuffs. The knitting capacity is 2,250 tons per month. All yarns used in knitting are Xorella conditioned waxed yarns cleared using colour and PP contamination clearers.
Loyal knits are cotton combed, carded, compact, siro compact, slubs, polyester blends and filament interlaced fabrics of wide range weight from 60 GSM to 450 GSM.
Loyal has 240 knitting machines with a capacity to produce 100,000 kgs of grey fabric with a dyeing capacity of 7,000 kgs per day.
Knitted grey fabrics with Dia ranges from 20″ to 34″ can be offered in 100% cotton, polyester cotton, cotton with lycra, slub and mélange fabrics.
Knitted fabrics cane be heat setted with the Monfongs heat setting machine that can process a maximum fabric width of 260 cm. It has 7 chambers with an APU unit for fabric GSM and CPI control after heat setting. It has a capacity of 10,000 kgs per day.
Loyal takes pride in having one of the best knitting facilities in the world in terms of quality of knitting, culture of needle and sinker change, labour productivity and power consumption.
INTELLIGENT KNIT INSPECTION SYSTEM
Loyal does 100% inspection of the knit fabrics with Intelligent Inspection Machines. Using in-house
software, the machines capture all the data on defects and contamination and grade the fabrics to
ensure 100% customer delight. Once inspected and once rolls have been cut to stipulated weight,
they are automatically packed and made ready for dispatch. The "Seven Gate Quality Assurance
System" provides a strong platform for zero defects.
State of the art on-line inspection and off-line inspection on tension free inspection machines
ensures only the best in quality fabrics are allowed to bear the Loyal name
Sequential packing ensures that the customers get one lot from one machine to help improve within-
the-lot colour variations.
Yarns used in knitting are contamination controlled through several stages.
At the raw cotton stage, in the blow room, the colour contamination is removed through two foreign
fiber separators and finally the residual colour contaminations are removed by clearers in the auto
coners.
Loyal's technical team is well versed in maintaining the correct stitch length, correct weight per
square meter and controlling the spirality to the bare minimum.
Regular tests include dyeing of fabrics to check the uniformity in dye absorption besides other standard quality controls.
Each roll has a quality sticker indicating the total defects and type of defects and is bar-coded.
Repeat orders from customers and acquisition of new customers through references has made Loyal's knit fabric division the largest exporter of knit fabrics from India.
Uses open width machines to produce crease-mark-free cotton/Lycra and Viscose/Lycra fabrics.
Separate sheds to produce blended yarn knits and coloured yarn knits to avoid contamination.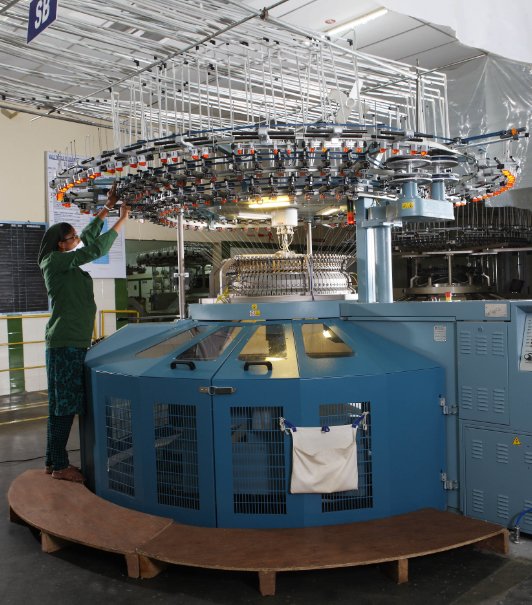 "Loyal has knitting facilities in its units at Sattur and Arasanur"